Furnace Repairs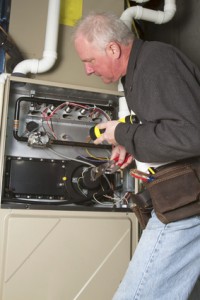 If you heat your San Antonio home with a furnace, it's very important that you keep the furnace in the best condition possible. When there are any problems with your furnace, it can be detrimental to the comfort of your home – when the weather is at its coldest, a problem with your furnace can be a safety and health issue for you and your family. At JB Heating & Air Conditioning, we know how important heating is to your home, and we'll do whatever it takes to get your furnace back up and running as soon as possible when any problems occur.
Our professionals all have extensive experience working with furnaces of all types and brands, and we'll be able to quickly troubleshoot any problems, diagnose them, and get your furnace working as well and as efficiently as possible promptly and professionally. We know how urgent furnace repairs can be, so we'll always get the job done as quickly as possible. However, we'll never sacrifice quality work in favor of a speedy job.
Common Furnace Problems
There are literally hundreds of different things that can go wrong with your furnace, but some problems are much more common than others. Some of the most common problems with furnaces include:
Pilot light or ignition control problems
If your pilot light is frequently going out, the furnace may only produce heat intermittently, or it may not heat your San Antonio home at all.
Dirty or clogged filters
Filters need to be regularly cleaned or changed; otherwise, your furnace will have to work much harder to distribute heat throughout your home. This results in less heat and higher energy expenses.
Air flow problems
Air flow problems can be caused by fan motors, belts, or bearing, and they will often result in poor heating control or an overheated furnace.
Thermostat malfunctions
If your thermostat isn't working properly, you'll have trouble controlling the heat in your home, and you may end up unable to heat your home.
Lack of maintenance
You need to have your furnace regularly maintained, inspected, and tuned up. Without regular maintenance, you'll see a drop in your furnace's efficiency, have a poorly heated home, and need more complicated and more frequent repairs.
Furnace Maintenance
Regular maintenance of your furnace is the best way to save money on repairs and avoid the frustration of having problems with your heating. Our professionals recommend you have your furnace tuned up at least once every year, preferably just before the winter begins. Furnace tune-ups can help you any necessary repairs before they do extensive damage, and they'll keep your furnace running as efficiently as possible. Year-round.
Recent Articles
Why A New Heating & Air Conditioner Installation is For You

It's the same for every homeowner. There is an instant fear and resistance to getting a brand new heating or air conditioning unit for your home. It's not secret that new units and installation costs can be fairly expensive. If you have a larger home with more rooms, then it can be even more complicated.…

Read More

Keep Your AC As Efficient As Possible

When the hotter parts of the year start to move in, it's very important to make sure that your air conditioner is as efficient as it can be. Your air conditioning is a huge part of your energy costs during the summer months, so saving as much as possible on cooling can drastically lower all…

Read More

If you're in need of furnace repairs, call JB Heating & Air Conditioning at 210-316-0523, or fill out our online request form.