Air Conditioning Tune-Ups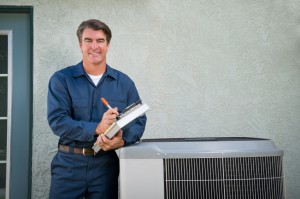 Most of the time, San Antonio homeowners wait until they've noticed something crucially wrong with their air conditioners before they call in a professional for repairs. But by that time, they're usually paying for more complicated, more expensive repairs. Taking care of problems before they turn into disasters can save you money and save you from headaches – but recognizing these problems with your air conditioner when they're small can be difficult for the average homeowner.
At JB Heating & Air Conditioning, our professionals recommend that you have your AC tuned up at least once a year. During our AC tune up, we'll be able to find and eradicate any small problems before they do more damage.
Some of the Benefits You'll Get from an AC Tune Up Include:
Save money on energy costs
Your energy costs can drop significantly as tune-ups will make it easier for your AC to keep your home cooler.
Extend your air conditioner's life span
You can improve and expand the life span of your air conditioner by catching problems earlier and taking care of them before they turn into more serious issues.
Prevent costly breakdowns
By making sure you're catching problems early enough, you'll prevent bigger repairs and breakdowns. So if you don't like being stuck in an emergency situation, you may love air conditioning tune-ups.
Keep your San Antonio home cooler and more comfortable
Keep your home cool throughout the summer months by making sure your air conditioner is constantly as efficient and functional as possible.
What We'll Do During an AC Tune Up
There are some things that you as a homeowner can do on your own to keep your air conditioner well-maintained, like cleaning the filters regularly. But our professionals will take that a step further and give your AC the best in quality service:
Check your coolant levels and pressure
Calibrate your thermostat
Clean your condenser
And much more!
Our complete air conditioning inspections and tune-ups will leave your AC running better than it ever has in the past.
Our Professional HVAC Contractors
All of our air conditioning repair technicians are licensed and professionally trained, so when you hire JB Heating & Air Conditioning, you can trust you're getting the best service possible. We'll discuss all of our work with you in plain English, and we'll always offer an upfront, honest, and accurate estimate before any work begins.
Recent Articles
How Important Are AC Tune-Ups?

Most San Antonio homeowners won't call in a professional to look at their air conditioner until a major issue arises. Before major problems or complete breakdowns occur, it's easy to assume that everything is running smoothly. And you wouldn't try to fix a problem that you didn't know existed.The problem with this is that you'll…

Read More

If you're looking for an AC tune up in San Antonio, call JB Heating & Air Conditioning at 210-316-0523, or fill out our online request form.