Heat Pump Repairs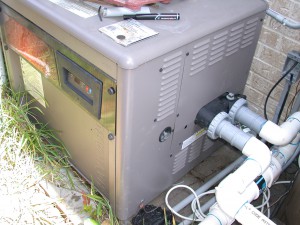 Your heating is a hugely important part of your home: it's responsible in large part for the comfort and the security that you and your family depend on from your home. And although the San Antonio area may not have the harshest of winters, going without heat during the colder months can be a huge inconvenience, and when the temperatures are at their lowest, any ineffectiveness can be a safety and health issue. Whether you're using your heat pump as a main heat source or to supplement another heat source, any heat pump repairs you need should be handles quickly and professionally.
Heat pumps can be used to heat your home, and they can also be used to remove heat from your home during the summer months – in both cases, your heat pump will be a great help with your energy efficiency. But heat pumps need to be kept in excellent condition throughout the year in order to have a positive effect on your HVAC system. If you've noticed that your heat pump isn't functioning as well as it used to or should, the professionals at JB Heating & Air Conditioning can help.
Heat Pump Efficiency
Heat pumps are one of the most efficient forms of heating, but that unfortunately comes with a small catch: heat pumps begin to lose efficiency and effectiveness when the temperatures outdoors drop below 45°. Fortunately for us, that's not an extremely common thing in San Antonio, but it does occur, if only for a couple of weeks out of the year.
The reason for this decrease in efficiency is that heat pumps use only a small percentage of their energy source (e.g., gas) to create heat. Most of the heat they produce is extracted from the ground and air outside, then pumped back into your home. This means that heat pumps use less energy than other forms of heating, but it also means that when the temps drop below 45°, the heat pump will have difficulty finding heat to extract from the outdoors.
This is why heat pumps are so frequently used as supplementary heat sources (especially in colder regions). They do a fantastic job of making other heating units much more energy efficient.
Regardless of outside temperatures, however, heat pumps will be increasingly inefficient if they do not receive proper care and maintenance.
Heat Pump Inspections
Any problems that you have with your heat pump should be taken care of as soon as possible. If they are not, the energy efficiency of your heat pump will rapidly decline, and you'll need to have much more expensive and complicated repairs down the line.
If you're using a supplemental heat source, however, it can difficult to tell which unit is malfunctioning. Our professionals can inspect your heating system thoroughly and help you determine where the problems are stemming from and the best way to move forward.
Recent Articles
Benefits of Air Duct Cleaning

Enjoy the Benefits of a Professional Air Duct Cleaning Your air ducts perform a vital function of circulating your heated or cooled air throughout your home. To ensure your San Antonio home's indoor air quality is high quality, be sure to invest in regular air duct cleaning. Otherwise, your home's air supply may become loaded…

Read More

Keep Your AC As Efficient As Possible

When the hotter parts of the year start to move in, it's very important to make sure that your air conditioner is as efficient as it can be. Your air conditioning is a huge part of your energy costs during the summer months, so saving as much as possible on cooling can drastically lower all…

Read More

If you need heat pump repairs in San Antonio, call JB Heating & Air Conditioning at 210-316-0523, or fill out our online request form.