Heating Repairs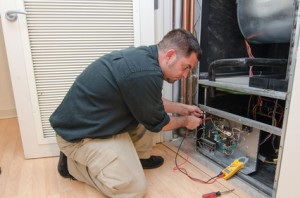 Even if the winter months in San Antonio aren't typically the harshest in the country, keeping your home as warm and comfortable as possible during the coldest parts of the year is extremely important. Sometimes it's more than just a measure of comfort – it's a matter of the safety and health of you and your family.
Two of the things that you depend on your home for most are comfort and safety, and without your heating system, those two things go out the window when temperatures drop to their lowest. The heating repair technicians at JB Heating & Air Conditioning know what an important part of your home your heating system is, so we'll always do whatever it takes to keep it in the best condition possible. Whether you're in need of routine maintenance, in-depth repairs, or a full installation or replacement, we can guarantee that you'll get the best in quality workmanship and professional service.
Our Professional Heating Technicians
All of the heating repair technicians at JB Heating & Air Conditioning are licensed, professionally trained, and extensively experienced. At every job we perform, we'll guarantee thorough and accurate heating repairs possible. We can make sure that your heating system is as efficient as possible so that you're not overpaying for your San Antonio home's energy expenses while you're keeping your home as comfortable as possible.
Heating System Maintenance
Homeowners will often wait until they've noticed extreme problems with their heating system – or even until it's completely broken down – before they'll call in a professional for assistance. But regular maintenance is a great way to keep your energy costs down, as well as your heating repair sots.
Catching problems with your heating system as soon as possible once they've developed can prevent more complicated, expensive repairs in the future, which is why our professionals recommend that you have your heating system tuned up at least once each year, preferably before the winter. During tune-ups, we'll find any small or looming problems that could potentially cause breakdowns or contribute to inefficiency and eradicate them immediately.
Furnace Repairs
Furnaces will typically last for between twenty and thirty years before they need to be replaced, but without proper care and regular maintenance, they could last for half that long. If a furnace is your San Antonio home's main source of heat, it's very important that you it regularly maintained and that you take care of any repairs as soon as possible once and problems develop.
If you're furnace is around ten years old but hasn't had a tune-up or inspection is recent memory, you should start considering whether or not you'll need to have it replaced soon. Our professionals can inspect and tune up your furnace, and we'll let you know how long of a lifespan you can expect to get out of it.
Recent Articles
Benefits of Air Duct Cleaning

Enjoy the Benefits of a Professional Air Duct Cleaning Your air ducts perform a vital function of circulating your heated or cooled air throughout your home. To ensure your San Antonio home's indoor air quality is high quality, be sure to invest in regular air duct cleaning. Otherwise, your home's air supply may become loaded…

Read More

3 Reasons To Get A Professional AC Tune Up This Summer

With summer nearing its halfway point, your home's air conditioning system still has its work cut out for it trying to keep your home cool and comfortable for you and your family, but if it has been some time since you've had your system professionally maintained, you could be setting your AC up for failure…

Read More

If you need heating repairs in San Antonio, call JB Heating & Air Conditioning at 210-316-0523, or fill out our online request form.