Heating Installations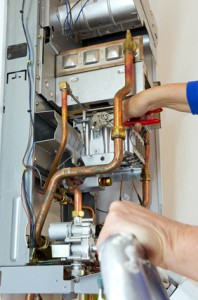 Comfort and safety are two of the things that you and your family rely on most from your San Antonio home, and your heating system is a huge part of both those during the winter months. When temperatures outside drop to their lowest, it's important that you have a heater that's running well and efficiently. Because your heater will be used so frequently and need to produce so much heat, you need to make sure that it's always in the best condition possible, and that begins by having a quality installation.
At JB Heating & Air Conditioning, our heating installation specialists are all licensed and professionally trained. So we're able to make sure that your installation goes as smoothly as possible. We can install any type of heating unit including furnaces, heat pumps, boilers, and central heat.
We guarantee that all of the installations we provide will be done in accordance with local and federal codes and guidelines and that all units will run as efficiently as possible after their installation.
Professional Heating Installation Technicians
Whether you depend on JB Heating & Air Conditioning for your heating installation, you're guaranteed to receive the absolute best in quality workmanship and professional customer service. We can guarantee that you will not experience any problems with your heating unit after the installation, and that the installation will have a positive effect on your home's energy efficiency.
Our professionals will always make sure the job is done promptly and professionally.
Why Hire a Professional Heating Installation Contractor?
It isn't unheard of for homeowners to attempt installing heaters on their own, but without professional training and experience, installing any kind of heating unit can be extremely difficult – not to mention, dangerous. The job requires specialized, professional-grade tools and equipment, as well as experience and expertise. If there are any mistakes made during the process, they can be very difficult to repair.
Most homeowners will require the help of a professional for this job, at JB Heating & Air Conditioning is the name you can trust. There are three general steps of a heating installation that can only be performed by a qualified, experienced professional:
Turning off the main power source

Heating units aren't just plugged into an outlet. The need to be directly wired to your San Antonio home's electrical system. This means that before you install your heating unit, it's very important to turn off your entire electrical system. Any mistakes during this step could result in house fires or serious injuries.
Removal and replacement of the heating unit

Removing your older heating can be an extremely difficult task – it's not as simple as just dragging it out to the curb. There are several metal pieces that need to be cut and ground, and this step will require specialized skills and tools.
Modifying your ducts

If any of your ducts need to be replaced or modified for proper installation, our heating installation professionals will recognize the problem and make the necessary adjustments.
Recent Articles
Why A New Heating & Air Conditioner Installation is For You

It's the same for every homeowner. There is an instant fear and resistance to getting a brand new heating or air conditioning unit for your home. It's not secret that new units and installation costs can be fairly expensive. If you have a larger home with more rooms, then it can be even more complicated.…

Read More

If you're in need of a heating installation in San Antonio, call JB Heating & Air Conditioning at 210-316-0523 or fill out our online request form.